Santa's newest elf working on toys in the workshop.
Although I am somewhat of a green/attachment parenting/crunchy/whatever you call it mom, I just couldn't go the no Santa route. I don't like the idea of lying to my son and creating an elaborate story, but it's Santa for Christmas sake. I think he will forgive me, eventually because he will get extra gifts out of the deal. It's like a right of passage, at least that is what I'm telling myself to deal with the guilt.
This was the year we took The First Mate to meet Santa for the first time. We got pretty close last year, but backed out after circling Santa's workshop. I wanted to avoid screams and cries and that feeling of being an awful parent for subjecting my child to the terror of a fat bearded man who likes reindeer. It was still a fear this year, but at least he was a toddler now, not a helpless infant.
When we arrived at the mall the man in the red suit was on a cookie break. The line had already formed, but we took our chances and decided to wait. It actually moved pretty fast and we only had to use or stroller as a weapon once to force out some line-cutters. It was nearing our turn and we made our way through a hole in the giant Christmas tree. It was decorated on the inside like a 70s roller disco complete with flashing lights and mirrored walls. The First Mate loves it and then it was time to meet Santa. Gulp.
We rounded the corner, he was a pretty good Santa and looked inviting. The Captain set him on Santa's lap and we stepped back near the photographer and made faces worthy of a Toddler's & Tiara's episode. But they were useless. No smiles, just a concerned look like we were turning him into be one of Santa's elves (He would be adorable with that ginger hair, awe. Luckily the frown and lip quiver never matured into tears and in the 3 shutter snaps allotted (no exceptions) we got a usable photo.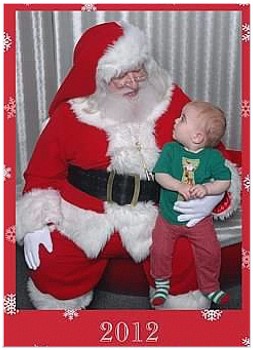 Picture In Portrait Christmas Card
Since it wasn't exactly a Hallmark card in the making (hey, but we aren't a Hallmark type of family) I decided to make it work.
Here is what I came up with for the inside message:
"So let me get this straight…

You see me when I'm sleeping and know
when I'm awake? That's a little creepy."

Merry Christmas from The Bruno Family
Here's to hoping next year is full of a few more smiles.
Merry Christmas from Pirate Prerogative
Thanks for your support this year.